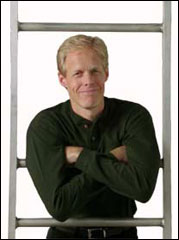 Tuey Wilson
Comedy Stunt Juggler

Tuey's show will give you everything you need to help showcase your event. With 25 years in front of audiences, Tuey has performed in almost every conceivable situation. It is this kind of experience that makes his show the perfect choice for your entertainment needs. And when you want to make your event the best it can be, you need every advantage you can get. Tuey performs for all types of events,

•Conventions
•Corporate Events
•Festivals

•Banquets
•Fairs
•Trade Shows
Performing stunts based in the classic skills of his craft, Tuey's show is anything but old fashioned. He goes well beyond the usual display of juggling skills to include a wide array of manipulations, thus, "I've never seen that before!" is a common response to Tuey's show. As one long time fan put it, "His shows have a lot of variety. He's always coming up with new ideas that are wonderful to watch." Audiences also love Tuey's unassuming, friendly style, and the only thing they do more than applaud during his show... is laugh.
Tuey has performed for numerous clients, some of which include: Thirty Seconds to Fame, FOX TV, Dixie Stampede, Branson, MO, Vail Arts Festival, Celebration Barn Theatre, Maine, Kimberly Clark, Great Clips, Diamond Vogel Paints, The Turkey Store Company, Carlson Companies, Alabama Power, Renaissance Festivals: CO, FL, GA, MN, VA
Below is a link to a video of Tuey performing his rope walking inferno at the Dixie Stampede in Branson, Missouri. He performs this show finale option only with appropriate approval.
http://player.vimeo.com/video/79269277

"Just wanted to drop you a line and let you know that Tuey was just absolutly wonderfully entertaining! We laughed till our cheeks hurt and then held our breath because we thought he was going to fall of that darn ladder!! I would definately recommend him to anybody who needs a great act for their party."
- North Star Coop
"I just wanted to let you know that Tuey Wilson was an absolute hit at our convention.  Not only is he a fabulous juggler and comedian, he is also very easy to work with and a true professional.  His interaction with the crowd was excellent and the audience participation took his act to a whole different level.  The crowd was on the edge of their seats with a look of total amazement of their faces throughout much of the show.  I would highly recommend Tuey to anyone looking for high quality entertainment for their event."
- Professional Insurance Agents of ND

Five Star Entertainment for every occasion!
Client Quotes
"Those looking for wholesome laughs and incredible demonstrations of skill have found their Holy Grail in Tuey."
- Juggle Magazine
"Modern people, TV-addled, sensation-drenched hard to engage. Right?... Two minutes into Tuey's act they were goggling like tots."
- St Paul Pioneer Press
"You always add such a unique feature to our festival, one that no other performer can capture."
- Norfolk Festevents, Ltd.
"Tuey is an outstanding performer who never stops adding outrageous and entertaining skills to his repertoire."
- GA Renaissance Festival
"It's always a pleasure to work with such a talented and enthusiastic entertainer."
- City of Duluth
"Tuey's comedy juggling  performance at our annual banquet really kept the
attention of the whole crowd. You don't have to go to Las Vegas to see a
'professional performer'. Tuey is not only a talented entertainer, but
really a nice person. I hope he enjoyed performing at our function as much
as we enjoyed having him spend the evening with us!"
- Barnesville Knights of Columbus

"Just wanted to let you know how much we enjoyed Tuey Wilson's performance at our employee service awards banquet!  Wow is all I can say!  Employees are still talking and laughing about the performance."
- Doosan Infracore Construction Equipment

"Just wanted to let you know that Tuey was a hit.  He had a great audience and the employees that were called up to be part of his act were hilarious.  It was a great evening. Thanks again!"
- Doosan Bobcat North America