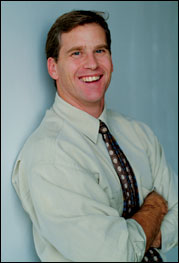 Scott Burton
Comedian

Scott Burton is an award-winning comedian, best selling author, and a prime-time television writer. He is also a world champion juggler who has worked with Jay Leno, Jerry Seinfeld, and Louie Anderson. Scott is described as "The Whole Package," a stand-up comedian, a mind-blowing juggler, and a keynote speaker who can deliver a message that audiences will be talking about for days.
Scott has the ability to present an entire performance of laugh out loud stand-up comedy & juggling; or deliver a program combining comedy with the topic, "Keeping Life in Balance". He can also create a message designed specifically for your group and deliver that message with laughter.
Scott also presents his own powerful and inspiring story of recognizing joy entitled "Looking for Laughter in All the Wrong Places". Through a year-long battle with cancer, he has been able to tell "his story" with comedy, helping others find joy and productivity throughout adversity. Scott has even written the only laugh-out-loud funny book about survivorship titled A Life in the Balance to glowing reviews.
Whether you're establishing new clients or energizing your sales force, launching a new product or just want some clean hold-your-sides funny comedy after an awards dinner, Scott's high-energy and interactive show makes for a potent keynote address or the perfect way to end your conference on a high note.
See also Scott Burton Keynote Speaker.
Client Quotes
"... So many of our clients have phoned, written or talked with someone at our office about your hilariously funny, entertaining, upbeat, energetic presentation and incredible juggling."  - Fletcher Financial Network, Inc. 

"We have had many speakers in the past from the top business 'gurus' to the positive thinkers. Your presentation received the highest ratings ever."  
- Amgen, Inc. 

"Scott, your act is the best I've seen. Besides being a great time, you were an excellent investment. You helped us be able to deliver the message one time, with retention, to eliminate travel costs."
- Norwest Banks 
Scott Burton is represented by

CALL TOLL FREE 877-365-0081