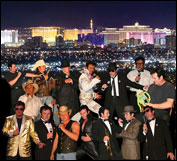 Mike Russell
Legends Showcase

The Legends Showcase is a Branson/Las Vegas-style tribute performance that appeals to a wide range of individual tastes. Each 60-75 minute show features 10-12 celebrity impersonations and is personalized for each event. The production also feature excerpts from the Elvis USA Show, which includes costume scarf and teddy bear give-away keepsakes. Mike was voted one of the top twenty Elvis tribute acts nationwide and performed live with the original Jordanaires in Las Vegas.

Mike's back to back impersonations with quick on stage costume changes create a unique and dynamic performance. His ability to alter his voice and personify multiple artists makes this an incredibly versatile show. Mike enjoys performing for all types of audiences. 
Mike has performed for numerous corporate and convention groups including:  Tri-State Auto Auction, Bobcat Company, Cenex, Western Products, Farm Credit Services, Missouri River Vally Ag, Stenerson Lumber Company, Gardner Bender Electrical, RAW Applicators, and the ND Co-op Manager Association. He has also performed in numerous revue shows and with many live bands. He has been a guest performer on the Carnival Cruise Line, with The Society of Seven in Hawaii and with the Herndon Brothers band.
The Legends Showcase comes complete with sound, lights and support staff. Following the show, music can be provided for your dancing or listening enjoyment. A photo opportunity with Mike following the performance can also be scheduled upon request. 
Click below for more information about the Legends Showcase
Click below for information about the Elvis USA Show
Client Quotes
"The crowd at our 25th annual Sports & Rec Show really enjoyed the two performances of Mike Russell & the Legends Showcase. We especially liked the great variety of celebrity tributes plus the extra live musicians he provided added a nice accompaniment to his excellent performance. Mike was fun & easy to work & so was Talent Productions."
 -Williston CVB
"The Legends Showcase was a huge crowd pleaser. Your performance kept everybody's attention, which was fantastic for the size & diversity of our audience."
 -Farm Credit Services
"Everybody loved the Legends Showcase. It was great! It made our Hollywood theme a big hit. We were very impressed with Mike Russell's performance & will be recommending him to other statewide groups."
- ND Land Title Association
Mike Russell is represented by

CALL TOLL FREE 877-365-0081