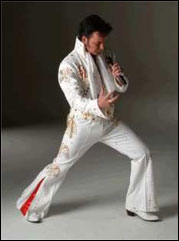 Mike Russell
Elvis USA Show

Mike Russell's performance was voted one of the top 20 Elvis tribute acts nationwide. He has performed live with the original Jordanaires in Las Vegas.  His Elvis USA Show recreates the voice, movements, and the aura of Elvis from three different eras in his career. As part of the evening, some audience members will receive keepsake costume scarves and teddy bears. 

To view excerpts of the Elvis USA Show please see the attached Mike Russell Legends Showcase video.
Mike has performed for numerous corporate and convention groups including: American Crystal Sugar, ND Pharmacists Association, Bremer Bank, Rydell Motors, Stenerson Lumber Company, Associated General Contractors, and the Big Iron Farm Show. He has also performed in numerous revue shows and with many live bands. He has been a guest performer on the Carnival Cruise Line, with The Society of Seven in Hawaii and with the Herndon Brothers band.

The Elvis USA Show can provide a complete production with sound, lights and support staff. Following the show, music can be provided for dancing or listening, if desired. The show can also include gospel selections as part of the performance, or feature a full evening of gospel music for religious occasions and/or special events. A photo opportunity with Mike can also be scheduled upon request.
Click below for more information about the Elvis USA Show
Client Quotes
"We have a diverse age group of people with many different ethnic backgrounds and Mike personalized and adapted the show for our particular needs. Thanks again for the excellent entertainment."
- Stenerson Lumber

"It was fun to watch you and also to watch the ladies reactions to you.  I appreciate the little extra touches...the teddy bears and scarves really made a hit with all the ladies! 
- Lois Sullivan, Big Iron Ladies Committee

" Many people commented on the fantastic show and the great job he did entertaining the whole crowd. We especially appreciated the extra attention he gave to special audience members."
 -Renner Productions
Mike Russell is represented by

CALL TOLL FREE 877-365-0081