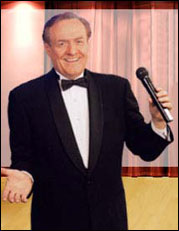 Lynn Roberts
Celebrity Impersonator, Musician & Emcee

Lynn Roberts has been entertaining audiences in the United States and Europe for over 30 years. He has performed for numerous national and regional television and radio broadcasts. Lynn is a member of the American Federation of Television and Radio Artists (AFTRA) and the American Federation of Musicians (AFM). When you engage a professional like Lynn, your job instantly becomes easier.
Lynn performs regularly for corporate events, concerts, fairs, festivals, and dinner theater shows. He has also performed on cruise ships as well as for television and radio commercials. His show can be performed with pre-recorded background music or with a live band of three to ten pieces.
Lynn is a talented celebrity impersonator, musician, and emcee who has the ability to personalize his show for your audience. Lynn is also an experienced big band conductor, director, and arranger. His dance band, The Swinging Saxes, can also be combined with his variety act to create a great entertainment package that can be customized for the length and type of performance you desire.
You can select from one of the many performance options such as:
Celebrity Variety Show
Musical Variety Show
Lynn's Big Band Ensembles.
Client Quotes
"Lynn Roberts was a fantastic addition to our performing arts roster this year. Lynn Roberts is extremely versatile and easy to work with. He is a great performer both on stage and off...and we definitely look forward to working with him in the future!"
Arizona Western College
"Thank you for an outstanding performance. I have heard nothing but compliments on how great your performance was. Your group has definitely impressed us all."
United Agribusiness League
Lynn Roberts is represented by

CALL TOLL FREE 877-365-0081