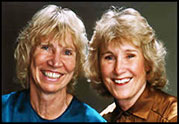 Laughter Works
Entertaining Keynotes & Seminars

Laurie Young, MA, NCC and Kay Caskey, ACSW, are counselors, therapists, Certified Holistic Health Specialists and nationally recognized speakers in the health and humor field.  They have extensive experience in teaching, training and counseling.  Laurie and Kay teach college classes in Stress Management, Communications, Healthy Aging, Mind/Body Wellness and Coping With Change.  They have developed and currently teach graduate classes in Health and Humor and Holistic Approaches to Play Across the Life Span through the Holistic Health department at Western Michigan University.  They have been featured on TV and radio interviews and in newspapers and magazines.

For ten years they have given over 500 keynotes and workshops to such diverse groups as the US Postal Service, Pharmacia & Upjohn, the National Council on Aging, the International Humor Conference, Dominos Pizza, Henry Ford Health System, the National Wellness Conference, the National Association of Purchasing Managers, the Institute of Management Accountants and numerous other business, educational and health care organizations.
Keynote Topics
Laughter Works...an approach to healthful living
Great Expectations...a light-hearted look at change
Accentuate the Positive/Eliminate the Negative in the workspace
Wisdom, Wellness, and Whimsy...secrets from the fountain of youth
Resilience Rx
Goal Posts...Adventures in living and the rules of travel
Therapeutic Juggling and Other Prescription Toys
Team Works!
Getting to Know You
Client Quotes
"The two of you are destined for national fame in this very important area of humor and health.  We feel fortunate to have been able to host you again..."
- Muskegon Community College

"Thank you so very much for teaching us how to laugh again...Staff feedback has been unbelievably positive."
-M. Rademacher, Training Coordinator, Michigan State Police

"The planning committee was so pleased that I had recommended you for the Michigan School Principal's Association Leadership Workshop. The principals did indeed love your presentation and gave glowing reviews..."
-Lynn Babcock, Elementary Principal, Livonia, Michigan

"Whew...you sure pulled in a crowd!  The feedback about you was terrific!"
-Carol  Lopucki, Program Chair, American Camping Association Annual Conference

"It was remarkable to see the whole room join in the fun.  Even the gentleman in the back of the room, who intended to "skip out" stayed for the entire evening."
-Karol Knight, Nat'l Association of Purchasing Managers, Grand Rapids
Laughter Works are represented by

CALL TOLL FREE 877-365-0081