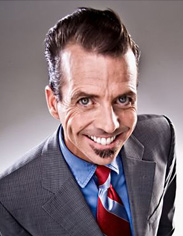 David Deeble
Comedian

At five-foot five and 117 pounds, David Deeble has been called "Pound  for pound the funniest man alive." A comedian, speaker and the creator of an "Unnatural Act" - a hilarious and inspiring display of exotic skills - David has performed on "The Tonight Show With Jay Leno," on "America's Got Talent" (season 3) and FOX's "Nightshift!".  In his keynote speech, "Winning With A Bad Hand," David shares with audiences his funny and inspiring story of overcoming a career-threatening injury. David has been an opening act up for Ray Romano, Kevin James and Gary Shandling.

His seamless transitions from funny and intelligent observations to remarkable tricks & hilarious stunts are what make David Deeble one of the most unique comedians around. David has the exceptionally rare one-two punch of wit AND skills..
David has entertained at Harrah's Lake Tahoe and made multiple headline appearances at Magic Castle. He is funny, versatile and small enough to fly coach. He performs regularly for network television, corporations, comedy clubs, colleges, theatrical events, and cruise ships throughout the world. To view David's most recent promotional video click here.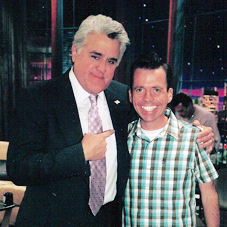 Some of the corporations that David has performed
for include:
・Boeing
・Mattel
・Avenade
・Golf Design
・Market Wire
・Horizon Escrow
・California Highway Patrol
・Collagenex Pharmaceuticals
・Ameriprise Financial
・Montessori School
・Dimensional Millworks
・Dachser USA
See also David Deeble Keynote Speaker.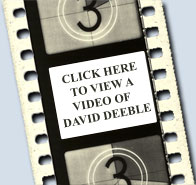 Quotes
"David Deeble makes me laugh so hard I forget I'm watching a prop act!"
- Mike Lacy, Owner, Comedy & Magic Club
"I Love Your Act!"
- David Brenner
"Very Funny"
- Kevin Nealon
"David Deeble is a tough act to open up for..."
- Will Shriner

"I 'm beginning yo see why you're single!"
- Jay Leno, The Tonight Show
"I couldn't believe anyone could make our group laugh as hard as David Deeble did. After the year our industry had we needed laughter at our annual meeting and we got it big time with David's hilarious talk and fantastic abilities. The standing ovation he received at the end of his show was very well deserved. "
- Builder's FirstSource, Inc.
"We had a great time!"
- Metro Area Ambulance

David Deeble is represented by

CALL TOLL FREE 877-365-0081
Member since 1992
Talent Productions Copyright © 2010 All Rights Reserved