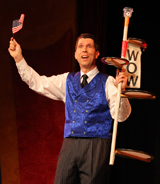 Dan Holzman
Comedy Juggler

Dan Holzman has been called a Juggling Genius because of his unique and entertaining twist on the 2000 year old art of juggling, his clever one-of-a-kind stunts have earned him two Guinness Book World Records and four appearances on The Tonight Show. To view a video of excerpts from some of Dan's performances click here.

During his 30 year career as an entertainer Dan has toured with Comedy legends Robin Williams, Billy Crystal and Howie Mandel, performed for The President of The United States, and even entertained the sequestered O.J. Simpson jury.
Dan Holzman's show is a funny and fast paced blend of comedy and coordination that is a perfect balance of humorous dialogue and incredible feats of skill. In 2009 Dan Holzman was presented with the International Juggling Association's Award of Excellence in recognition of his outstanding work as a professional juggler.
Special events
Shizuoka World Cup Festival
Presidential Command Performance
sequestered O.J.Simpson Jury
Academy Awards
Grand Opening "Catch A Rising Star"
Edinburgh Fringe Festival
Ted Conference (6 times)

Awards
2 Guinness World Records
I.J.A. Bobby May Award of Excellence


Cruise Lines
Holland America
Oecania Cruises
Seabourn

Opening act
Howie Mandell
Robin Williams
Billy Crystal
Jay Leno

Corporate
American Express
Apple Computer
Eckerd Drug
McDonalds
Petsmart
Sharp Electronics
U.S. Sprint
Toyo Tires
TED conference

TV
Tonight Show
Jerry Lewis Telethon
Entertainment Tonight
TNN Prime Time Country
Jonathan Winters' Showtime Special
Evening at the Improv
Comic Strip Live
MTV Stand-up Comedy Special

Fairs & Festivals
Renaissance Fairs
County & State Fairs
Other events too numerous to mention

Client Quotes
"Awesomely Hilarious."
- Comedian Tom Green

"Dan Holzman really is a juggling genius, he is a true professional, and his show is a first class blend of amazing stunts and clever jokes."
- Scott Meltzer, Pier 39 talent coordinator

"IIt's hard to find an entertaining juggling act, or a comedian funny enough to be a headliner...Dan
Holzman is both."
- Mike Lacey, Owner of the Hermosa Beach Comedy and Magic Club
"Dan Holzman is a joy to work with, his routines demonstrate a wide range of skill, and his comedy is top shelf."
- Jim Maxwell, Director and Founder Austin Jugglefest Public Show
"One of the greatest performances ever hosted by our organization, Dan Holzman tailored his material to fit our audience, and I couldn't tell who was laughing harder the children or the adults."
- Brett Dearing, Children's Discovery Museum
Dan Holzman is represented by

CALL TOLL FREE 877-365-0081