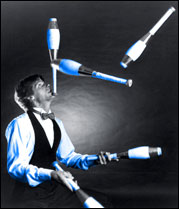 Brian Wendling
Juggling! Comedy! Energy!

Brian Wendling is an International Jugglers' Association champion who combines award-winning juggling, comedy and audience participation into high-energy entertainment.

His personable wit and versatility have captivated audiences as a performer at Disney World, as an opening act for the Guess Who, and as a feature soloist with the Kansas City Symphony.  He has also been named Best Stage Entertainer at the Kansas City Renaissance Festival on numerous occasions.

Brian's performances are a visual feast.  He pops ping-pong balls out of his mouth, bounces balls on a drum, spins ropes, and weaves magic with a Chinese yo-yo.  Whether he is climbing an unsupported ladder or performing feats on a rolling globe, he will grab your attention... and keep you laughing!
Corporations
Boeing
Allied Signal
Pizza Hut/Nickelodeon
AMC Theaters
American Cyanamid
Kansas Telecommunications Assoc.
Aramark Services
Hallmark Cards
Missouri Gas Service
Hoechst Marion Roussel
House Of Lloyd
Hy-Vee
Mid-American Cable TV Assoc.
Miles - Agricultural Division
Payless Cashways
Marion Labs
KPL Gas

Commercials
Sprite
Energy Expo
Stations Casino

Events
Atlanta Olympics
The Guess Who - Opening Act
Greater Kansas City Auto Show
Disney World
Minnesota Twins Pre-Game Show
Kansas City Renaissance Festival
Wichita Auto Show
Silver Dollar City Theme Park
Minnesota Renaissance Festival
Mid-Central Sysco Food & Equipment Show
KC Flower, Lawn And Garden Show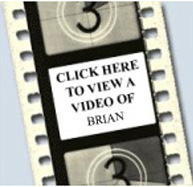 Client Quotes
"Thanks!!  You got great reviews from the audience."
-Hoechst Marion Roussel

"I highly recommend this talented, tireless (performer) to anyone desiring high skill, comedy, fun and a remarkable degree of audience participation."
- Silver Dollar City Theme Park

"Thank you for your humorous and talented performance.  You provided many tears of laughter for our employees and their families."
- Aramark Corporation

"Brian Wendling performed at the fourth annual Fishing River Festival and was a smashing success!! "
- Excelsior Springs Cultural Guild

"Brian Wendling recently performed at our outdoor festival and was a tremendous hit.  I highly recommend Brian as a certain crowd pleaser at any function."
- Huntsville Chamber of Commerce
Brian Wendling is represented by

CALL TOLL FREE 877-365-0081
Member since 1992
Talent Productions Copyright © 2008 All Rights Reserved