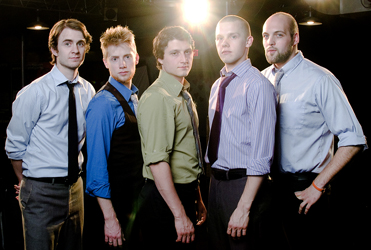 Bearded Men Improv
Comedy Improv

Bearded Men Improv's performance is fast-paced, funny and can be personalized for your group. The show format is patterned after the hit television program "Whose Line is it Anyway?". The show features an emcee, three or four artists, and numerous performance scenarios.
There are more than 200 different improv segments that can be incorporated into the production. Each performance utilizes 10-12 segments to create a show that is uniquely original every time it's performed. If desired, your group's personalized information, along with its "star performers," can also be incorporated into the presentation. Because this show utilizes audience suggestions, it can be enjoyed by repeat audiences time and time again.

Bearded Men Improv performers are professional actors & college theater graduates who possess a wide range of performing experience. They have studied improv at the Second City in Chicago, as well as with over a dozen of the most respected teachers of improvisation and comedy across the country. They have been asked back again to perform at the Chicago Improv Festival for the third time as well as performing return engagements at the Twin Cities Improv Festival hosted by the Dudley Riggs Brave New Workshop, the oldest improv company in the nation. They have also performed repeat engagements at the Kansas City & Atlanta Improv Festivals, plus they have made first time appearances at festivals in Detroit, MI, Austin, TX, Seattle, WA & in Toronoto Canada.
Managing Director of Bearded Men Improv is Joe Rapp, the Artistic Director is Matthew Pitner & the Education Director is Joshua Stenseth. Together they have over 30 combined years of improvisational theater experience.

Bearded Men Improv group performs regularly for corporate & convention groups, banquets, fundraisers, post proms, grad parties & special events of all kinds. Their comedy improv entertainment is never scripted and is completely original.
Bearded Men Improv can also provide personalized emceeing & customized seminars that are fresh & creative. Topics such as: "Teamwork and Listening", "Help Your Team by Helping Yourself", "Get Out of Your Head and Into Your Body", are available or... let us design a seminar specifically for your organization.. Perfect for corporate training & company groups, too. Learn methods of how to think better "on your feet".

Bearded Men Improv have either made appearances, repeat appearances or have
standing invitations to return to the following national improv festivals:

OFFICIAL SELECTIONS:
*Twin Cities Improv Festival 2009/ 2011/2012/2013
*Spontaneous Combustion, Atlanta Improv Festival 2011/2012/2013
*Spontaneous Combustion Motor City, Detroit Improv Festival 2011
*Chicago Improv Festival 2009/2010/2011
*Kansas Improv Festival 2010/ 2011
*Out of Bounds Comedy Festival, Austin, TX 2012
*Big City Improv Fest, Toronto Canada 2012
*Seattle Festival of Improv Theater 2013



"The Bearded Men Improv group was by far the best entertainment we have had for a company celebration. There wasn't a single person in the audience that wasn't laughing throughout the entire performance. We laughed and smiled so much that our faces were literally sore the next morning. Bravo Gentlemen!"
- Summers Manufacturing Company

Client Quotes
"Intelligent-Clever-Flat Out Hilarious. Their performance was brilliant, witty & just a really good time. The audience was laughing for 90 minutes straight. Looking for comedy that has evolved beyond jokes about bodily functions-these are your 'Men'."
- Alzheimer's Association MN-ND

"We recently held on employee gathering for all of our employees from across the state of North Dakota. The Bearded Men did a great job of starting off out fun evening. We all enjoyed their humor and laughter was abundant throughout their act."
- Western States Bank

"InterceptEFT hired the Bearded Men for our Christmas Party. They had great routines, and they stuck firmly to the time schedule we discussed. I would highly recommend them to other businesses because they provided our company lots and lots of laughs."
- InterceptEFT
"The Bearded Men Improv was a delight! This ensemble is a very talented troupe of young actors who adapted well to the group.
True improvisation is tough and they nailed it with our group!"
- Metro Area Ambulance
"The Bearded Men Improv was great! They had some of us in tears. Really enjoyed them. Thank you so much."
- ND Apartment Association
"I have heard great reviews from the audience.  There were definitely lots
of laughs and several people have said it's the best Christmas party they've
been to.  Thanks so much!"
- MDU Resources Group, Inc.
"The Bearded Men Improv group was awesome! Thanks!"
- Post Prom E. Grand Forks, MN
"The kids absolutely loved the Bearded Men performance.  A few days later
the kids were still quoting from the performance.  We had done a hypnotist
in past years, but the kids said this was far better.  From a chaperones
perspective, the group was extremely funny, related well to the kids, and
were also very age appropriate.  They did a great job engaging the audience
and we would definitely recommend them."
- Post Prom Barnesville, MN
"Bearded Men Improv were hilarious, loved it."
- Post Prom Oklee, MN

"The Bearded Men Improv were a big hit at out annual employee appreciation
event. Everyone really liked them. They were easy to work with & were very
funny! We will highly recommend them to others!"
- SRT Communications