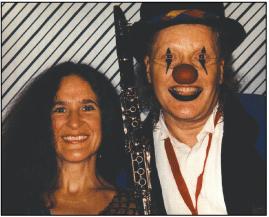 T.C.Hatter&Marcianne
The Silent Comedians

Forget everything you ever thought clowns were like."T.C. Hatter is the most striking and unique performer I have ever put on my stage. Two weeks of sold out shows," says Bruno Schrippa, Wise Guys Comedy Club. With a modern day style of comedy that is reminiscent of Chaplin, Red Skelton
and Sid Caesar, this is one gifted entertainer that truly knows what adults of all ages enjoy. "I guarantee every night is going to be a little different just because people never respond in the same way," Hatter says. "That keeps it fun for me because just about when I think I have seen everything, someone will do something new..."

"Funnier than ten stand-up comics, without uttering a single word!"


"This clowning around is sophisticated comedy, " exclaims the Anchorage Daily News. With a show that centers around total audience involvement, this uniquely different and spontaneous performer is not only breaking the boundaries of traditional stand-up comedy, but is also the only show to bring a full one piece orchestra at no extra charge.
Ted Miller of Laffs Comedy Warehouse cheers, "Wow! What a draw. Two weeks of sold out shows. I highly recommend T.C. Hatter if you're looking for something unique that sells." So treat your audiences to more than just stand-up comedy. Treat them to the magic of what the Minneapolis Star Tribune called, "One part Emmet Kelly, two parts Harpo Marx and several parts never seen before!" Treat your audiences to the magic of a live silent movie! Treat them to T.C. Hatter & Marcianne!
See performance credits for a partial list of television, comedy club and festival/fair engagements

Client Quotes
""...at the Vail National Comedy Festival. The festival's real highlight,...could be the two shows starring T.C. Hatter and Marcianne. Hatter,...puts on one of the funniest and most unusual acts in comedy today.
He's a top-notch visual comic,... If you can take in just one show, make it one of Hatter's."
- The Denver Post

""...he had the large audience howling with laughter... His show is inventive, original, imaginative and unpredictable. And funny. Very, very funny."
- Lubbock Avalenche Journal

"Their act is so popular because it is genuinely funny,..."
- Art Voice, Buffalo, NY
""...we have never seen our people laugh so hard--for so long. The audience participation is what really
captured our people. We have a group that loves to have a good time and all of us thoroughly enjoyed
T.C. and Marcianne!"
- Eide HElmeke & Co.
"You have such a unique and efreshing program that everyone felt they were seeing something new... Audience involvement is the key to success and you do a great job of involving People...After working with the two of you for six programs, we became very aware of your dedication and professional approach to your work."
- Cenex/Land O'Lakes
"Just a note to let you know how much we enjoyed your performance... You and Marcianne put on an excellent show...What we appreciated the most...was the quick tempo and the broad appeal, everbody laughed and nobody was offended. There was not a dry eye in the house."
- State Steel Supply Co.